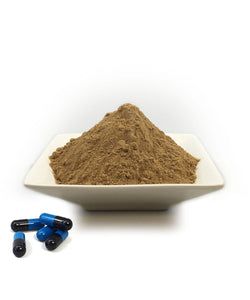 Chuchuhuasi 5:1 Extract Capsules
Regular price
$9.00
$16.00
Unit price
per
Chuchuhuasi (Maytenus krukovii) 5:1 Extract Capsules from the Amazon Rainforest. Each capsule is packed with 500mg of extract and perfect for on the go. Used across South America as an all natural remedy for pain, inflammation, arthritis, rheumatism and as an incredible libido enhancer. Works as a wonderful libido enhancer for men & women and perfect for a romantic getaway!
Chuchuhuasi works as an incredible all-round remedy. It can be used on its own or alongside other botanicals. With our powerful ext. capsules it makes taking your daily dose of chuchuhuasi easier than ever!
Dosage: We recommend taking 1-3 capsules per day.
We only source from sustainable farmers with no pesticides.
---