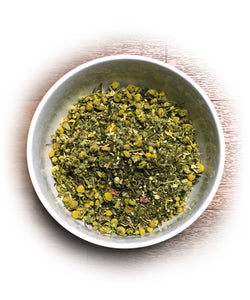 Dream Tea
Regular price
$9.00
$0.00
Unit price
per
Our Dream Tea is quintessential when preparing for voyages while under the spell of Mr Sandman. This special blend is formulated to promote fascinatingly vibrant and pleasant dreaming ensuring you wake up refreshed and cheerful. Sip on this minty and floral tea nightly - hot or iced.
Ingredients: Organic Peppermint, organic Chamomile flowers, organic Gotu Kola, organic Mugwort, organic Damiana, organic Rosemary, organic Rose petals and a pinch of organic Stevia.
Directions: Steep 1 tbs in hot water for 3-5 min. Strain, relax, and enjoy.
Weight: 50g, 100g, 250g
Certified Organic, Kosher certified, and 100% Caffeine free.
---