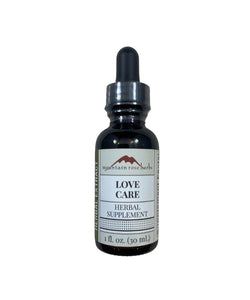 Love Care Extract
Regular price
$20.00
$0.00
Unit price
per
Our warming blend is formulated to promote natural feelings of love and closeness. Arousal can be encouraged through various actions including healthy circulation, relaxation, stimulation, or support of normal glandular functioning. Nurture your intimacy with this amorous botanical combination.
Our love care extract mixture can be added to water or juice or taken directly on the tongue and includes:
Damiana: This herb has a long history of use in age old healing modalities for its healthful properties and amorous spirit. Although its noted effect on sexual desire has been its primary historical use across cultures, it has also been valued for its relaxing and calming effects.
Kava Kava: Piper methysticum contains a multitude of phytochemicals that help facilitate the healthful actions of this powerful herb, including kavalactones. Kava kava root is revered for its mellow qualities and promotes natural relaxation and helps in coping with stress.*
Rosehip: The rose hip, also called the rose haw, is actually the fruit of the rose. These fruits have a tart flavor and are one of the most concentrated sources of vitamin C available. Rosehips have a long history of use in traditional medicine.
Cinnamon: This spice has been employed extensively in Traditional Chinese Medicine to balance the spleen, kidney, heart, and liver meridians and to stimulate the movement of "chi". Cinnamon bark is considered to be energetically warming and uplifting.
Vanilla Bean: Vanilla planifolia is a tropical orchid with an exquisite, edible fruit, the vanilla bean. The mythology of the pre-Columbian Totonac tribe (who resided in what is now Mexico) refers to vanilla as an aphrodisiac and is still used for that purpose in aromatherapy today. The sweet, mild flavor is one of the most popular and well-known in the world.
Kola Nut: These seeds are referred to as kola nuts, which are bitter tasting, contain caffeine, and symbolize peace and friendship for many cultures. Used in African folk herbalism for thousands of years for their beneficial properties, kola nuts are considered a symbol of hospitality and kindness. They are commonly used as flavoring agents.
Ingredients
Organic alcohol, water, organic damiana leaf, fresh organic kava kava root, organic rosehip fruit, organic cinnamon bark, organic vanilla bean, and kola nut.
*This statement has not been evaluated by the Food and Drug Administration. This product is not intended to diagnose, treat, cure, or prevent any disease. For educational purposes only.
---