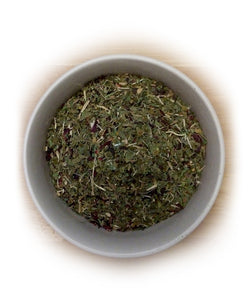 Memory Boost Tea
Regular price
$8.00
$0.00
Unit price
per
Our Memory Boost Tea is hand crafted with some of the strongest memory boosting herbs available, including ginko and gotu kola. Rich in antioxidants, this tea has a clean, mildly fruity taste with just a hint of bilberry and ginger.
Ingredients: Organic ginkgo, organic hibiscus flower, organic eleuthero root, organic gotu kola, organic parsley leaf, organic alfalfa leaf, organic bilberry leaf and organic ginger root.
Certified Organic, Kosher certified, and 100% Caffeine free.
Directions: Steep 1 tbs in hot water for 3-5 min. Strain, relax, and enjoy.
Allergy Warning: Hibiscus may be intercropped with peanuts and contain traces of nuts.
---