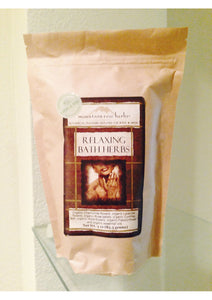 Relaxing Bath Herbs with Muslin Bag
Regular price
$16.00
$0.00
Unit price
per
Fragrant baths have been enjoyed for centuries for their healing and purifying properties. After all, it is a wonderful and relaxing feeling to bathe in fresh, fragrant herbs and flowers!
With our delightful herbal bath blend with a robust floral aroma, your baths will be even better. Our Relaxing Bath Herbs are the perfect way to pamper yourself with a true bathing delight. Our Bath Herbs come with a reusable drawstring muslin bag, allowing you to easily infuse botanical aromas and herbal sensations time and time again.
Contains: organic Chamomile flowers, organic Lavender flowers, organic Comfrey leaf, organic Rose Petals, organic Hops flowers, organic Passionflower and a blend of true essential oils.
Net Weight: 3 oz
---